WHAT YOU NEED TO KNOW ABOUT NOTICE PERIODS IN GERMANY
I remember when I moved to Berlin (for a second time!) in the fall of 2014 and had to quit my job in Canada. I was nervous about giving my boss the news and sad at the thought of leaving. I worked for an NGO that does meaningful work, and part of me wanted to remain there. With mixed feelings, I resigned, and while my boss was also sad to see me go, he knew how much I loved Berlin and how I'd been aching to get back. Two weeks later, I had my last day of work, ending with a lovely and emotional farewell lunch with my colleagues.
The sticking point here is the "two weeks later." I only had to give two weeks' notice when I quit my job! While typical in Canada, this isn't the case in Germany, where notice periods are significantly longer.
ALL ABOUT NOTICE PERIODS IN GERMANY
Germany's long notice periods are often puzzling to foreigners, as when you're used to shorter notice periods, anything longer feels like overkill. Long notice periods were surprising to learn about when I moved to Germany; at first, the notion of long notice periods didn't really make sense.
All of that changed when I learned how long notice periods work.
How Long Are Notice Periods In Germany?
Notice periods (Kündigungsfrist) run the gamut of anywhere from 30 days notice, 60 days, 90 days, and for some high-level positions, even longer. Notice periods for board members and other high-ranking executives can sometimes be as long as 12 months. There are often further rules, like providing notice before the end of the month in which you want to resign.
Every company works differently, and I've worked for companies that required 30, 60, and 90 days' notice. If you want to know your notice period, you can find the terms outlined in your employment contract (the contract you signed when you accepted your job offer).
Take, for example, where I work now as a full-time employee with an unlimited contract that stipulates:
After the end of the probationary period, the employment may be terminated with three months' notice calculated from the end of the calendar month in which notice is given.
If I want to start my next job in November 2022, I need to give them notice by July 31, leaving me with them for July, August, and September. If I provide notice on August 1, I'd only be able to start my new job in December.
How Do Long Notice Periods Benefit Everyone?
Long notice periods are mutually beneficial to both the employer and the employee.
Benefits for companies include:
There is ample time to recruit and hire someone to replace you.
There's sufficient time to complete a thorough handover of your work responsibilities, including time to train others.
They can count on the continuity of your work for the remainder of your notice period.
Long notice periods exist to protect employees as well. Benefits for employees are:
If your company decides to terminate your position, whether you're being made redundant, they are legally obligated to pay you for the duration of your notice period.
You get an additional two weeks for every year you worked at that company.
This also includes them continuing to pay their part of your health insurance.
Using my situation as an example, if my company decided to make me redundant, they'd have to pay me for three months. I'd also get an additional half month's severance because I've worked there for over a year.
Notice Periods Vary By Employment Type
Terms for notice period vary by employment type and it's important to know how it works for each case:
1) Full-time Employees – In addition to the notice period outlined in their employee contract, full-time employees (Angestellter) with unlimited contracts (unbefristeter Vertrag) may have more extended notice periods based on how long they've worked there.
My contract states:
After the end of the probationary period, the employee may be terminated with three months' notice calculated from the end of the calendar month in which notice is given. Apart from that, notice periods for the Employer increase with the length of service in the business or enterprise according to the provisions of section 622 of the German Civil Code.
Read the German Civil Code for more information on what the additional notice periods are for varying lengths of service.
2) Employees On Probation – If you're still in your probation period (usually the first three or six months of employment), long notice periods don't apply. During probation (Probezeit), the company can release you with only two weeks' notice, and in turn, you can resign with only two weeks' notice. In either case, this means only two weeks of pay.
Good companies sometimes pay more than the two-week minimum if you get laid off during probation. I was laid off once during my probation, and the company awarded me six weeks of pay, three times more than what they were legally bound to pay. Note – depending on their financial situation, not all companies will be in a position to do this, and some companies won't be willing to do this at all.
Probation periods allow both the employer and employee time to evaluate one another for a good fit, enabling either party to part ways quickly and easily.
When a company acknowledges you passing probation, it's a big deal. It means they value your work and are committed to taking on the financial responsibilities of keeping you on board. This is why probation periods are such a big deal in Germany and a reason to celebrate once passed.
3) Part-time Work or Fixed Contracts – If you work in a part-time job (Teilzeitbeschäftigter) or a job with a fixed-term contract (befristeter Vertrag), your rights are covered by the Part-Time and Temporary Employment Act (TzBfG). If your contract is for more than three months, notice periods are usually four weeks, and if your contract is for less than three months, your company can mandate a notice period of fewer than four weeks.
4) Freelancers – Unfortunately, freelancers don't have the same protections as salaried employees. Notice periods are usually part of a contract when a company and a freelancer start a new engagement. If either side wants to terminate the contract, both parties are legally obliged to follow the terms they agreed upon previously.
Reasons Companies Can Terminate
Employment Contracts
Employment contracts can be canceled by the employer for various reasons:
1) Getting Laid Off – A company can lay you off for business reasons (betriebsbedingte Kündigung), as part of a cost-savings restructuring, or if they are going out of business, for example. The onus is on the company to prove that your job doesn't exist anymore and there are no other open roles you could fill.
You could be let go immediately or they may ask you to work for the remainder of your notice period. If they ask you stop work immediately or sometime before the end of your notice period, you won't be eligible for unemployment benefits until the notice period has concluded. You'll still continue receiving your regular salary until your notice period is complete. Afterward, you can start receiving unemployment benefits (Arbietslosengeld), provided you're eligible. Read more on the state's official website to find out if you're entitled to this benefit.
2) Getting Fired – While more rare, a company can let you you based on your conduct (verhaltensbedingte Kündigung), like always being late for work, not doing the job well, and more. Before they let you go, the company must provide at least one written warning (Abwarnung). Hopefully, it will end there, and your employer will give you a chance to improve your work and arrive at a mutual agreement on how specific issues can be addressed. They must also pay the required notice period if they still decide to let you go after the written warning.
If you've done something severe, like committing a crime, a company can issue a summary dismissal (fristlose / außerordentliche Kündigung) that will see your employment terminated immediately.
3) Getting Let Go Due To Illness – As unbelievable as it sounds, a company can let you go if you're unable to work over the long term because you're sick (personenbedingte Kündigung). In such cases, you can still receive sick pay through your health insurance company.
When You're Terminated By A German Employer
Details including monetary amounts, your final working date, and more will be outlined in a formal separation agreement (Aufhebungsvertrag) provided by your employer.
Whatever you do, don't sign the agreement right away, even if they pressure you to sign it on the spot. If you do so, you won't be able to contest it at a later date.
You have the right to take some more time to think about whether you want to accept the agreement "as is" or if you want adjustments to be made. Having the termination agreement reviewed by a German lawyer is recommended to help you determine if the agreement is fair and help you obtain a more favorable settlement.
If you believe you were wrongly dismissed, you can challenge it by filing a legal complaint and taking it to court. You have to do this within three weeks of receiving notice from your company. While the legal process could prove time-consuming and expensive, you may be able to negotiate a severance package (Abfindung).
I advise you to take out legal insurance to secure support should such a situation occur.
When You Resign
From A German Company
You need to notify your employer in writing when you plan to resign. A hard copy of a resignation letter should be provided to your manager and People team with your signature, along with some other required bits of information. This is needed in order to make your resignation both legal and official. When you resign, you can also ask for a letter of reference. Having one on file is good practice, as you can use it for future job applications.
Once you've given your employer formal notice, you can work out what your last day of work will be. It can often be reduced by using up any earned vacation days. If you're eager to move on to your new company, some employers may agree to you leaving earlier. They're not obligated to do this so they may decline your request. Employers can also opt to end your work earlier than the legal end date, common when they run out of work for you to do. In any case, they still need to compensate you accordingly.
To help you write a resignation letter quickly and easily, download our free English template. It contains all of the critical information that's required for German resignation letters, as well as a filled-out sample to give you further context.
Long Notice Periods Are A Good Thing
Long notice periods are beneficial to everyone involved and are something to truly appreciate about working in Germany.
This type of generous severance and protection is almost unheard of in Canada, and it immediately turned me into a fan of long notice periods. It makes me feel safer knowing I have a financial safety net that will give me plenty of time to seek new work opportunities.
Long notice periods are something that's very unique to Germany and offer workers benefits that cannot often be found elsewhere. 
Can you find English speaking jobs in Germany? Is being fluent in German essential to building a career? We answer your questions.
Unsure how to navigate the German job market? Seeking to change careers or ask for a promotion? These career coaches in Germany can help.
An honest and detailed guide with tips from a career coach and hiring manager, advising you on how to find a job in Berlin in 2023.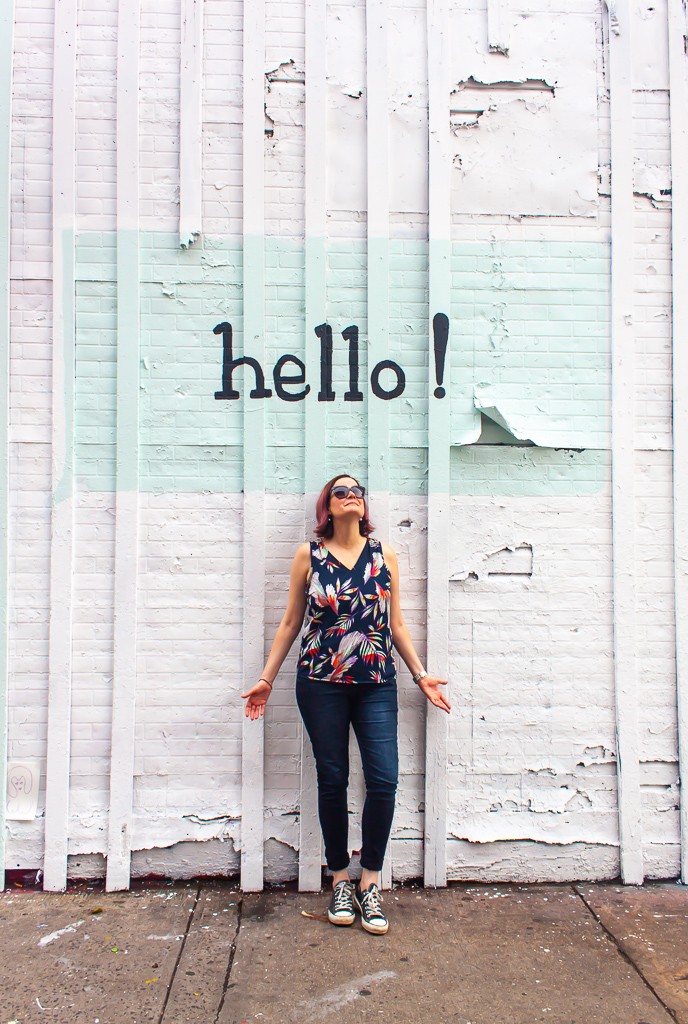 Cheryl Howard, Founder @ The Berlin Life
Hi, I'm Cheryl. My mission is to help you move to Berlin and find work.
A Canadian in Berlin for 10+ years, I have the unique experience of moving to Berlin – not once, but twice. During my time in Berlin, I've had five different visas and worked as both a freelancer and a permanent employee for numerous Berlin companies. I even managed to find a new job during the pandemic and again in 2023, during Germany's recession and massive layoffs in tech. 
My day job has involved work as a hiring manager, overseeing the recruitment of countless people, as well as a team coach helping teams and individuals work better and find happiness in their careers. Through my side projects, I've also shared my personal experiences by publishing a series of helpful blog posts, creating a thriving community of job seekers, and hosting events to help people find work in Berlin. In 2021, I decided to put my coaching and recruiting talents to use by creating The Berlin Life, bringing my existing content and community together in one spot.
The combination of my personal and professional experience means I know exactly what it takes to move to Berlin and find work.