HOW TO WRITE A GERMAN COVER LETTER – A STEP BY STEP GUIDE
Have you been looking for a job in Germany, applying for several positions, and finding that you're not getting any responses? It happens to the best of us, even to those who work in highly demanded professions like software developers, marketing professionals, economists, and more.
Searching for a job, especially one right for you, is a daunting task that takes a lot of work, patience, and perseverance. When you add looking for a job in a foreign country like Germany into the mix, it's even more challenging. You're probably unfamiliar with the country's norms when creating job applications and could unknowingly be making mistakes. What's more, a lot of the information about how to write a German cover letter is often outdated and/or created by people with zero experience in recruiting.
The most significant part of getting noticed by German employers is your ability to put together a solid job application, which usually includes a well-written and designed cover letter and CV that tells a story about you and why you're uniquely qualified for that position.
 WRITE A GERMAN COVER LETTER LIKE A SEASONED PRO
📖 📖 📖 Bookmark THIS extensive guide on how to write a German cover letter and use it as a frame of reference when applying for jobs in Germany.
1) Are Cover Letters Really Needed?
As you're searching for a job in Berlin, or anywhere in Germany for that matter, have you asked yourself these questions:
1) Do I need to write a German cover letter when I'm applying for jobs?
2) Are cover letters relevant when my CV already tells my story?
3) Does anyone even bother to read cover letters?
Let me tell you a story:
I worked for one company when a member of senior management asked, "Why do people write cover letters? I never read them. I only want to see their CV, and I'll get in touch if it's interesting. I'm way too busy to read both cover letters and CVs."
A very fair point and I agree with him 100%. His pain was also my pain, as I was reviewing several job applications each day and looking at people we could potentially add to our team. It was time-consuming and tedious, especially when we wanted to ensure whoever applied was given a fair shot.
It's true that not every recruiter or hiring manager will read it (like that manager), and some companies (like where I currently work) even ask candidates not to submit cover letters. However, many companies still expect to see one.
So do you need a German cover letter? Yes, most definitely. Even though they feel like a waste of time (and sometimes really are), cover letters are essential when applying for jobs in Berlin or elsewhere in Deutschland.
2) Why Should I Write A German Cover Letter?
There are a number of good arguments about why you should take the time to write up a cover letter for your job applications:
1) There's a slight chance that not submitting a cover letter will result in immediate rejection. A recruiter or hiring manager may think that if you didn't put in the effort to make a cover letter, why should they even consider you for the job? While this is silly, don't take a chance and make it a habit always to include a cover letter.
​2) Some (not all) HR software scans submitted documents looking for specific keywords. A cover letter that mentions certain keywords from the job description could help you bubble to the top of the candidate pool, where you're more likely to get noticed before other candidates.
3) Called a motivation letter in Germany (Motivationsschreiben), a cover letter is your chance to shine. It's when you can tell the company why you want to work for them, explain how uniquely qualified you are for that role, and really make your personality come through.
​Think of it like this – when you go to the theatre to watch a movie, you'll see trailers for upcoming flicks. They only last one or two minutes, but if the trailer is really good, they've hooked you, and eventually, you're going to go out and watch that movie.
Your cover letter is exactly like that movie trailer. It's a preview of your CV and you as a person. A cover letter's main call to action is to make the person reading it want to know more. They'll spend time reviewing your CV and, hopefully, contact you for that first interview.
4) A cover letter shows diligence and interest from your side. Employers are keen to know why you want to work for them, learn why you're the person they should hire, and if you're passionate about your chosen field.
If a cover letter is done well, in the sense that it's framed as a well-written and compelling narrative, it'll motivate the employer to contact you for an interview. Most people do really read them, so it's worth spending time writing one that makes you stand out from other applicants.
3) How Do I Structure A German Cover Letter?
Following a fixed structure and method that you can repeat for each new job application makes writing a cover letter way easier.
Always include these vital elements in a cover letter: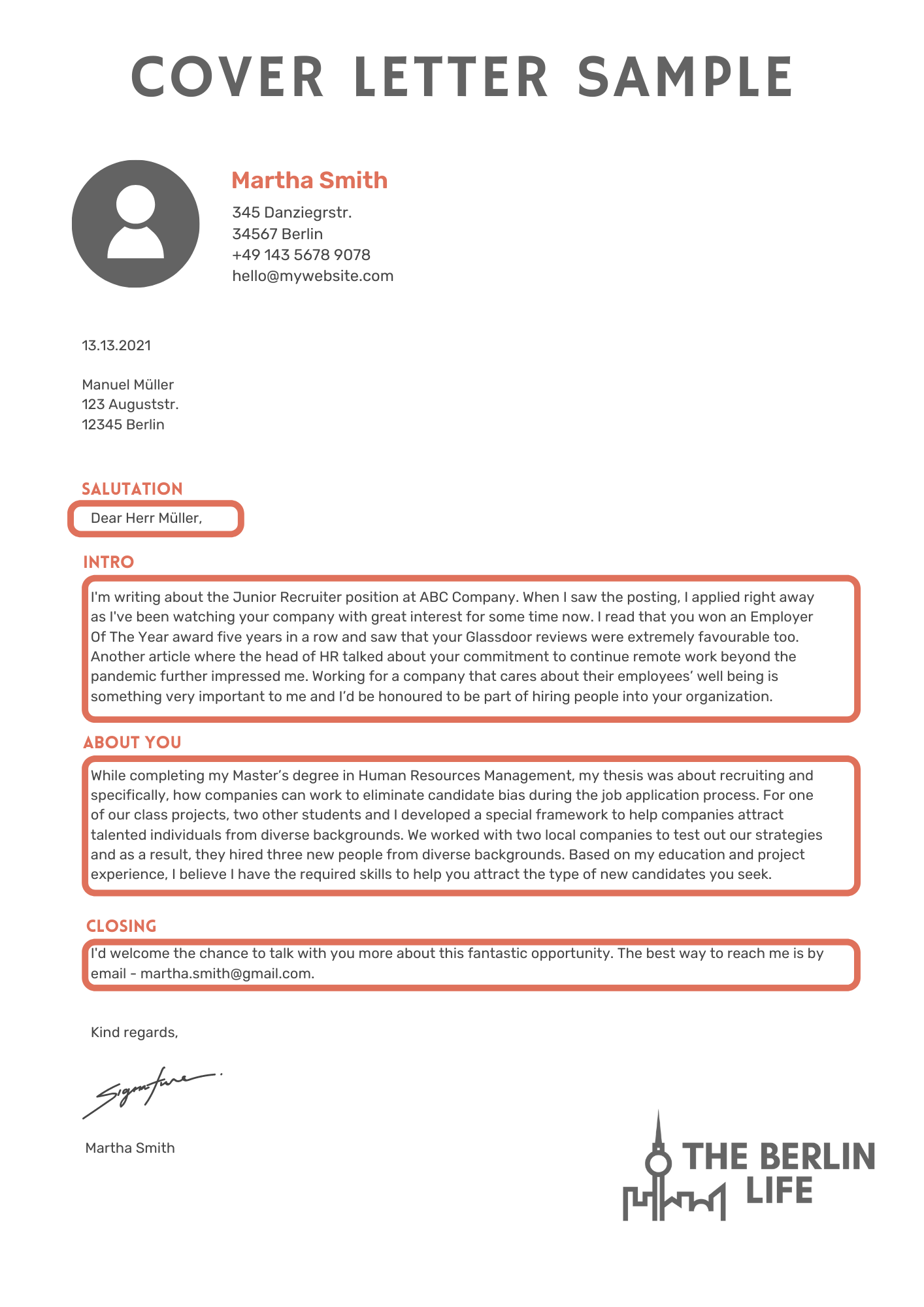 1) Salutation – Address your cover letter to that person using formal German greetings such as "Dear Herr Müller" or "Dear Frau Schmidt." If no contact is listed or you're unsure about which greeting to use (you don't ever want to address someone as Herr when they're a Frau, for example), use a generic greeting such as "Dear hiring manager" or "To whom it may concern." If you read other online texts saying that you always have to specify a specific contact name, this is very untrue. More and more German companies are refraining from adding contact names to job descriptions to avoid being spammed by applicants. So don't stress out on this point at all, as using a generic greeting is not only expected but completely acceptable.
2) Intro – This section should be one paragraph maximum. Personalize your cover letter by telling the company why you want to work there. Be specific and use supporting examples gleaned from company research. Doing so will impress the company and show you did your homework before applying. Remember that this section is not about you but about them as an organization. Avoid self-serving statements when telling them why you want to work there. For example, don't say you want to work there because the office is down the street from your flat or you heard they pay exceptionally high salaries. Instead, say you're impressed with the company culture, that you identify with their sustainability mission, and that you want to be part of building out the next stage of their growth.
​3) About You – This section can be one or two paragraphs long and is the "meat" of the cover letter and where you need to sell yourself. Pull points from the job description to tell your potential employer why you're uniquely qualified for the position. Build on those points by using personal examples that draw from your experience, education, and more. Ensure your examples are specific, build on one another in a complementing fashion, and tell an exciting story. Say that the role calls for someone with leadership experience. You can tell them that you have 10 years of experience managing distributed teams of varying sizes. You can further say that you excel at creating and maintaining high-performing teams with a track record of meeting deadlines. And finish by telling them how you launched a project that helped the company make millions of euros. Whatever you do, don't just list a bunch of keywords, repeat the job description itself, or write a novel.
4) Closing – Reiterate your excitement about the company and the open position. Let them know you want to learn more and would welcome a chance for an interview. Be sure to tell them about your availability and how to best get in touch.
A few more tips about how to structure a German cover letter:
1) If you're sending the cover letter by email or uploading it to an applicant tracking system, you don't need to include the address information of yourself or the company. For that matter, a signature isn't required either. These things are entirely unnecessary and irrelevant as we no longer live in the Stone Age.
2) If anyone prints or references your cover letter for an interview, you can leave the date on it so they know when you applied for the role.
Strive to ensure the narrative in the letter flows well and tells a unique story about you and why they should hire you over anyone else out there.
4) Should I Customize My Cover Letter For Job Applications?
Yes, we know. It's a lot of work to create a new cover letter every time you apply for a job, but sending the same cover letter out won't do anymore. You need to show employers you took time to research their company, tell them why you want to work there, and why they should hire you.
This is why personalizing the cover letter is really important. They need to see the real you and that you were thoughtful in your job application. Anything less makes it look like you're not really interested in the role and could see your job application land in the recruiter's NO pile.
Suppose a cover letter is simply a regurgitation of the job description or a generic copy-and-paste text you've used for every job application. The recruiter or hiring manager will easily be able to spot this and may make the company less likely to contact you. Again, don't take a chance.
Read about how to customize cover letters when you're submitting unsolicited job applications. 
5) How Do I Use Company Research In My Cover Letter?
Before writing a cover letter, we recommend that you complete in-depth research on the company to which you're applying. The research will help you a lot, especially as it'll give you the information you can embed in your cover letter and use later to ask questions during an interview.
You need to tell the employer why you like their company and show you did your research, by looking at Glassdoor reviews, browsing through their website, reading their press releases, etc.
Read our detailed guide about how to research a German company.
6) How Long Should A German Cover Letter Be?
Keep the cover letter to a single page and not more than 3 – 4 paragraphs. Be succinct (i.e., avoid long wordy sentences or overuse of adjectives) and summarize, summarize, summarize.
Pick key points from your CV and/or job description but don't repeat things verbatim.
7) Should I Use An Automatic Text Generator or AI?
I've played around with ChatGPT and boy, is it good. Like really really good!
Call me old school, but in general, I'd still suggest writing your own cover letter without the help of predictive text generators or AI.
I say this for two reasons:
1) Many of these generators like Speedwrite yield text that doesn't make much sense at all. It often reads as if it were written by a robot and spits out alternative text that says exactly the same thing but in a slightly different way.
2) Even worse, it won't sound like you. A cover letter should be an honest and accurate reflection of who you are and how you communicate. I cannot stress that enough, especially if you're being hired into a role where communication skills are key.
What you could do is use AI to write that very first draft cover letter. Then you could use that text as a baseline and improve it using your own words. Try out this beta AI from Imagine to get started! 
Alternatively, you can write a draft first and then use a tool like Grammarly to better what you've written.
We know this can be tough if you're not writing in your native language. In these cases, make sure you get other people to proofread your cover letter or even hire a professional to help you out.
8) Should I Write My Cover Letter In German?
Writing your cover letter in German may help you get noticed by HR software or LinkedIn search engine algorithms.
Be careful and use your best judgment here, though. It could backfire when they discover that your level of German doesn't match the level of what's in your cover letter.
Let me tell you another story:
A recruiter I used to work with told me that she'd found a dream candidate for a position that had been open for a long time. This person was applying from abroad and had submitted both their CV and cover letter in German.
The first interview was scheduled, and during the call, the recruiter was surprised to find that the candidate didn't know any German at all. Turns out they'd paid someone to translate their documents.
Sadly, the candidate was rejected for their false claims of being fluent in German and wasting the recruiter's time. And contrary to what many say, German fluency is absolutely essential for most available positions in the country. 
Of course, it could go the other way and the company may still hire you anyway because you're such a good fit. But please, be honest upfront and if you decide to write your cover letter in German, indicate your language level (like B1 or C1) very prominently on your CV and in your cover letter. Then the decision will be left to the employer to contact you.
9) Can I Stretch The Truth Because Everyone Fibs A Bit?
Above all, be humble and honest about things, like your education, work experience, level of German, etc.
It's easy to lie or exaggerate when you want a job, and we've all been told to "fake it until we make it," and in many cases, it can work in your favor. But let's be real here, this behavior is unprofessional, not to mention unethical.
Not long ago, I was shocked to read the LinkedIn profile of a former colleague who claimed to have led a high-profile project for our company. That project wasn't even started until after that person left. This person was blatantly lying and taking credit for other people's work that she didn't do.
Don't be that person. 
False claims could come back to haunt you. For example, the Berlin community is small and people know each other. A potential employer may know someone at one of your former companies and informally reach out to them for information about you.
If they uncover any lies, it will likely cost you the job, even your reputation.
Of course, be confident in your accomplishments, and don't undersell yourself. Just make sure you're telling the truth.
10) How Do I Create A Well Designed Cover Letter? 
You could just type of bunch of text into a Google document and send it off. But how about making your cover letter look nice using websites like Canva or Edit.org, where you can find beautiful and professional templates for free?
Other things to keep in mind:
1) Use a large and readable font that considers general accessibility guidelines. Sometimes people try to jam as much information as possible onto a cover letter and to make it fit a single page using ridiculously small font sizes. Trust me – no one wants to use a magnifying glass to read your cover letter.
Use this guide from Indeed which speaks to the right font and font size to use on CVs, which also applies to cover letters.
2) Don't make your paragraphs too long and use sensible spacing to make your cover letter easier to read.
3) Your German CV should have a similar look and feel. This way, the cover letter, and CV will appear as one fluid job application package.
11) Do I

 

Really

 

Have To Follow These Rules?
No, of course not! Our guidelines are simply here to help you write a good cover letter that's more likely to get you noticed by German employers.
There's no reason not to get creative and have fun with your cover letter. This may also mean breaking some of the "rules" outlined here.
Be bold and dare to take unique approaches that challenge the status quo. Perhaps give them a link to a video you made telling them why you want to work there. Share a sample of what you can do for them by sharing some insight on how you'd approach your job. Invite them to check out your blog or social media.
The sky's the limit. A unique cover letter will help you stand apart from other candidates.
12) How Can I Ensure My German Cover Letter Is Of High Quality?
Make sure there are no spelling or grammatical errors, get the company name and other details right, and if you can, have a second or third pair of eyes review your cover letter. This can be a friend, partner, or even, a paid professional. Proofreading is essential, as if you've been staring at the same documents for hours, it can be super easy to miss out on small mistakes you might've made.
This advice might sound really obvious and basic, but trust me, I've seen tons of job applications with errors on them. I must also confess that I once put the wrong company name in a cover letter and somehow still got several interviews with them. Miracles happen, folks! 🤣
Anyway, avoid sloppy mistakes if you can, and make sure your German cover letter is top-notch.
What do I recommend? Join my Facebook community of more than 8,000 people and ask someone there for a cover letter exchange. Another person can review your cover letter and give you feedback and you can do the same for them.
That's a wrap! Follow these tips to write a really good German cover letter that's going to land you a job in Germany.
Can you find English speaking jobs in Germany? Is being fluent in German essential to building a career? We answer your questions.
Unsure how to navigate the German job market? Seeking to change careers or ask for a promotion? These career coaches in Germany can help.
An honest and detailed guide with tips from a career coach and hiring manager, advising you on how to find a job in Berlin in 2023.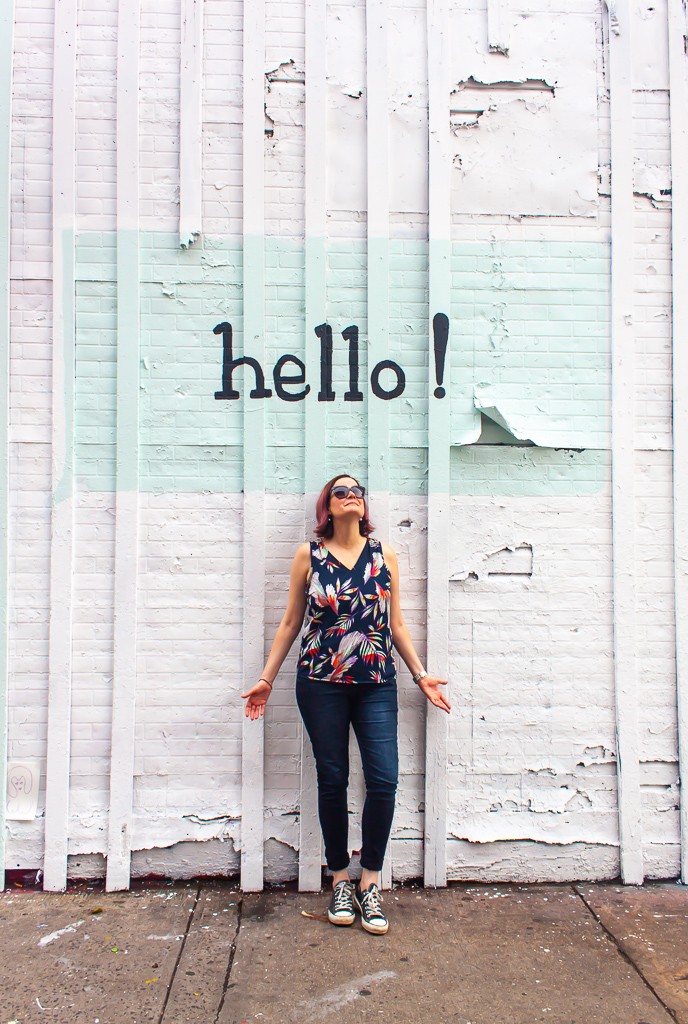 Cheryl Howard, Founder @ The Berlin Life
Hi, I'm Cheryl. My mission is to help you move to Berlin and find work.
A Canadian in Berlin for 10+ years, I have the unique experience of moving to Berlin – not once, but twice. During my time in Berlin, I've had five different visas and worked as both a freelancer and a permanent employee for numerous Berlin companies. I even managed to find a new job during the pandemic and again in 2023, during Germany's recession and massive layoffs in tech. 
My day job has involved work as a hiring manager, overseeing the recruitment of countless people, as well as a team coach helping teams and individuals work better and find happiness in their careers. Through my side projects, I've also shared my personal experiences by publishing a series of helpful blog posts, creating a thriving community of job seekers, and hosting events to help people find work in Berlin. In 2021, I decided to put my coaching and recruiting talents to use by creating The Berlin Life, bringing my existing content and community together in one spot.
The combination of my personal and professional experience means I know exactly what it takes to move to Berlin and find work.